The Durrell Challenge 13K road race in Jersey, kindly sponsored by Butterfield, will start at 9am* with 3 waves of 200 mixed runners from Victoria Park in St. Helier and finish at Jersey Zoo in Trinity on Sunday 23 May.  
Due to current restrictions on international travel and events, the 13K road race in Jersey will once again only be open to residents of the island. However, we are excited to bring back the 13K Virtual Run for the second year, allowing Durrell supporters all around the world to get involved and take on the challenge closer to home. 
Runners of all abilities are encouraged to take on the challenge to help raise vital funds to protect and care for some of the world's most threatened wildlife. No matter where in the world you may be, you can be a part of our mission to save species from extinction by taking part in this running challenge and fundraising for our work.  
REGISTRATION 
Click here to register 
Early 

b

ird (ends midnight 

28

/

02

/21) – £25.00

 

Standard (ends midnight 16/05/21)

 

– £30.00

 
Online registration closes at 09:00 on Monday 17 May 2021, after this date we will be unable to accept registrations. If you wish to guarantee a t-shirt when collecting your race pack you must register before Tuesday 11 May 2021. 
______________________________________________________________
ESSENTIAL EVENT INFORMATION 
We strongly encourage all runners to read the essential information for the Durrell Challenge 2021.  
Frequently Asked Questions (FAQs) are available here.   (Jersey runners should refer to the latest essential information pack for confirmed race details for 2021) 
This race will operate under UK Athletics Race License. Click here to download our T&Cs. 
______________________________________________________________
COURSE DETAILS 
The race will take place on marshalled open roads, starting at 9:00* from Victoria Park, St Helier, and finishing at Jersey Zoo, Trinity.  
Course map: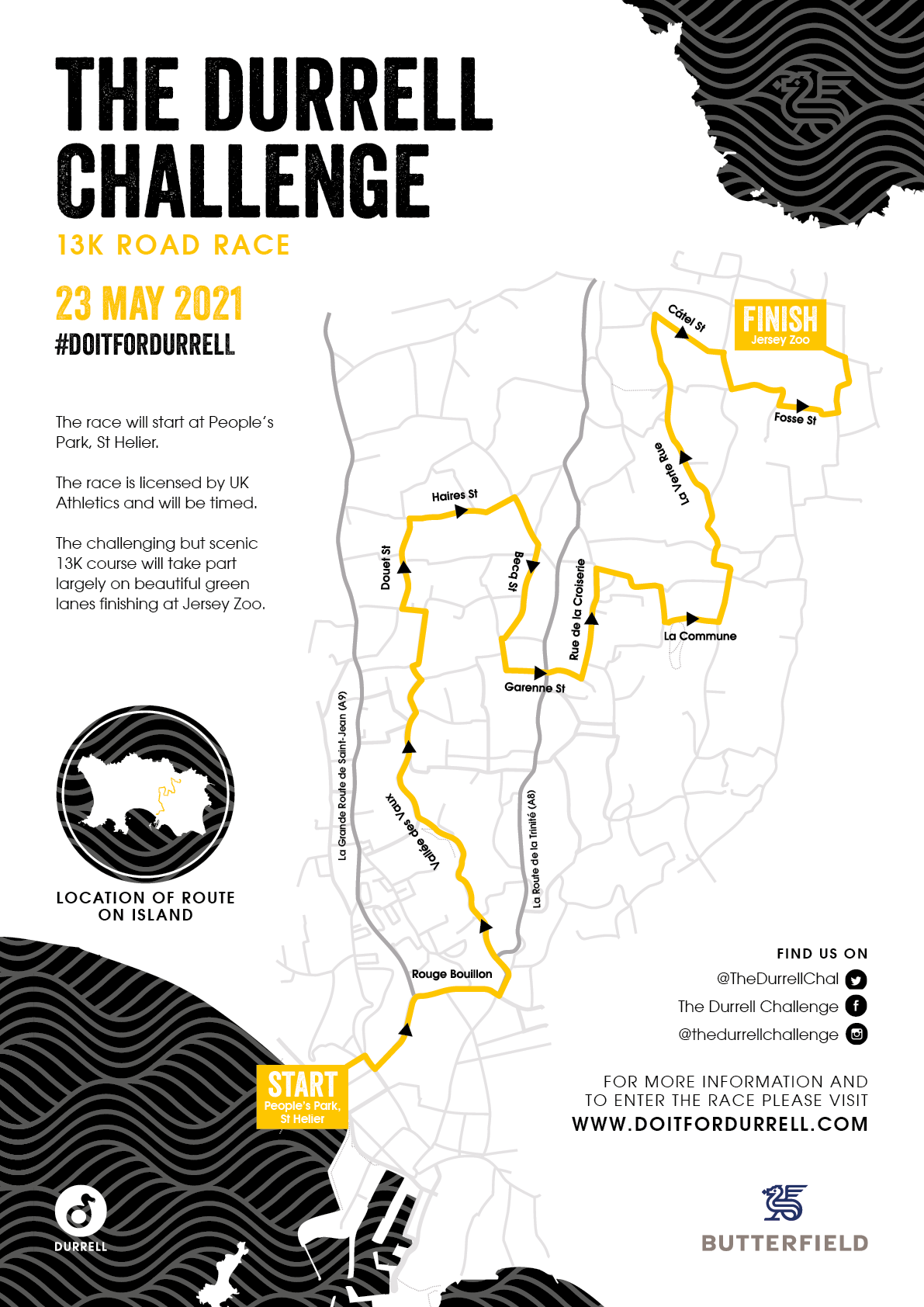 Click here to view the route on Strava
The race will consist of 3 waves of 200 mixed runners and will be a timed race. As we continue with some of our COVID-19 risk mitigation plans there will not be water provided on the course. Water will be available at the finish line. Post-race massage services will not be available for runners at the end of the race. 
______________________________________________________________
SPECTATORS  
Spectators will be allowed but must adhere the Government of Jersey's Reconnection Roadmap guidelines. Jersey Zoo will operate a dedicated entry system for visitors, which will ensure the safety of all runners by making sure spectators do not cross the finish straight of the race. Spectators should allow at least 15 minutes to enter the zoo and get to the finish line.  
*The 13K road race on 23 May is subject to a Bailiff Chambers permit, local policing authority support and the event complying with the Government of Jersey's events policy that is in place on the date of the race. If the event is forced to be cancelled, local runners will be automatically transferred to the 13K Virtual Run and receive a £10 discount on entry for the Durrell Challenge 2022.  
**Please see our FAQs for more information on race chip technology, water stations, and post-race massage services.